What would an entirely flood-proof city look like? From China to New Jersey
Leave a Comment
As the recent floods from Bangladesh to Texas show, it's not just the unprecedented magnitude of storms that can cause disaster: it's urbanisation.
From sponge cities in China to 'berms with benefits' in New Jersey and floating container classrooms in the slums of Dhaka, we look at a range of projects that treat storm water as a resource rather than a hazard.
by Sophie Knight Sept. 25 2017 read full GuardianUK article here
They call it "pave, pipe, and pump": the mentality that has dominated urban development for over a century. Along with the explosion of the motorcar in the early 20th century came paved surfaces. Rainwater – instead of being sucked up by plants, evaporating, or filtering through the ground back to rivers and lakes – was suddenly forced to slide over pavements and roads into drains, pipes and sewers. Their maximum capacities are based on scenarios such as 10-year storms. And once they clog, the water – with nowhere else to go – simply rises.
The reality of climate change and more frequent and intense downpours has exposed the hubris of this approach. As the recent floods from Bangladesh to Texas show, it's not just the unprecedented magnitude of storms that can cause disaster: it's urbanisation.
…With climate change both a reality and threat, many architects and urbanists are pushing creative initiatives for cities that treat stormwater as a resource, rather than a hazard….
…In China, the government has commissioned the construction of 16 "Sponge Cities" to pilot solutions for the freshwater scarcity and flooding suffered in many cities as a result of rapid urbanisation. Chicago architectural firm UrbanLab was commissioned to design the masterplan for Yangming Archipelago in Hunan province: a new centre within the larger city of Changde, devised as a "new model for the future".
The area, a low-lying land river basin that experiences heavy rainfall, is regularly flooded. Instead of incorporating defences against water, UrbanLab put space for it to flow at the centre of its urban plan, putting major buildings on islands in an enormous central lake. Canal-lined streets that UrbanLab call "Eco-boulevards" connect the eight districts – the process is visualised in this video.
UrbanLab says their vision combines a dense metropolis with a nature setting: "As a functional center, Yangming Archipelago will serve as an urban model, we expect it to lead the way to a new way of thinking about the city of the future."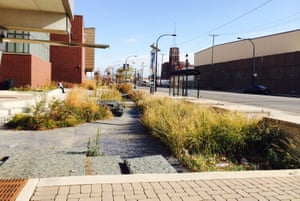 Permeable pavements: Chicago's 'green alleys'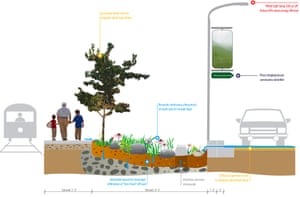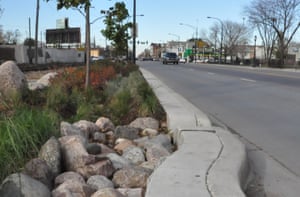 Rainwater travels through the self-cleaning, pollution-reducing sidewalk before going on to feed surrounding plants…
…In New Jersey and New York…in response to Sandy, ZUS partnered with MIT's Center for Advanced Urbanism and De Urbanisten to devise New Meadowlands: a masterplan for combining flood resilience with recreational amenities through marshes and a system of parallel raised banks called berms.
Between the outer berm and the sea, the restored wetlands would soak up seawater and slow down tidal waves, preventing them from hitting the dikes at high speed. The stretch of berms would serve as a wildlife refuge, filling up with rainwater during periods of heavy rain before draining out. And on the insider of the inner berm, ditches and ponds would retain rainwater, preventing it from causing sewers to overflow….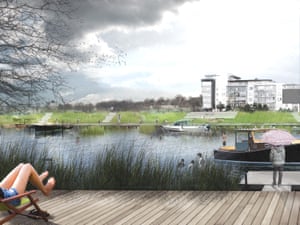 Berms with benefits