'Zero tolerance' plan for plastic pollution considered by UN environment ministers
Leave a Comment
Governments are being asked to move towards a legal treaty banning plastic waste from entering the sea.
At the moment ships are prohibited from dumping plastic overboard but there's no international law against plastics flooding into the sea from the land.
A plan for zero tolerance of plastic pollution of the oceans may be agreed by nations at a UN environment summit…..
Experts say ocean plastics are an obvious subject for a global treaty: plastics present a large-scale threat….Plastic pollution doesn't recognise international borders. Delegates in Nairobi preparing the way for the UN's environment ministers meeting next week are said to be in broad agreement on the need for tougher action to combat the plastics crisis.…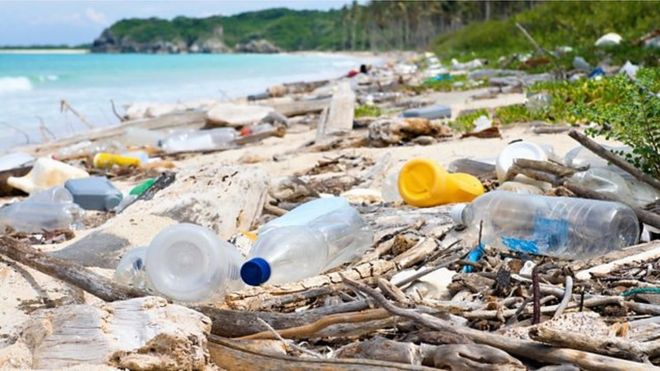 …China – the world's biggest plastics polluter – is said to be cautious about being bound by global rules. Other big polluters like India and Indonesia are said to be generally supportive about the resolutions….
India's Prime Minister Narendra Modi recently applauded the clean-up of plastic from a beach in Mumbai, saying: "It is our duty to protect the environment for our future generations."
Eirik Lindebjerg from WWF said the Nairobi meeting could prove a turning point in the plastics crisis. He told BBC News: "The treaties on climate change and biodiversity were initiated in this forum – so it has a track record of making things happen."….
…The meeting will also discuss pollution of the air and water. A global ban on lead in paints may be approved.